Running a restaurant business requires you to be mentally tough and smart. Because there is an immense competition out there. If you are not working with the right methodology and serving your customers with the pathetic quality of food, you are going nowhere.
Arzaz Kitchen understands the fact and makes sure that its customers are fully satisfied with the quality of food and service. As the literal meaning of Arzaz is "Rice", so you can easily expect what the kitchen primarily focuses on. Yes, Arzaz only serves the dishes that are made of rice, but the variety, uniqueness of the recipes and taste is what sets it apart.
Also, the people at Arzaz are pretty much aware of the fact that having a profound online presence with mesmerizing corporate identity opens up a door to unparalleled growth and success. QousQazah has been doing it for years. And, this is what encouraged Arzaz to get in touch with us.
So, below mentioned is the step-by-step process that has been incorporated to do corporate identity designing for Arzaz Kitchen.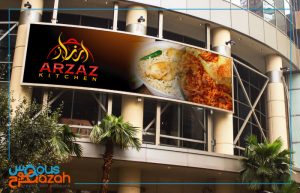 A deliberate touch is given to the logo design by making it a fine calligraphic depiction. However, the calligraphic makeover has been customized to accentuate a little glimpse of what Arzaz serves. We have made sure that whoever sees the logo of Arzaz, gets the message right away, which will eventually help the kitchen transform itself into a renowned brand.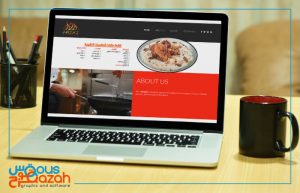 You can't think of establishing an impeccable online presence without an attention-grabbing website. Well, it merely relies on how you have structured your web design. For Arzaz, we have worked out a web design that will surely help the kitchen signify its core values and the range of dishes it serves.
Social Media Banners and Stationery Designs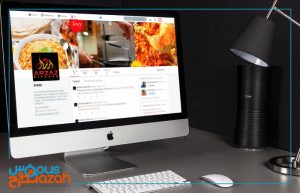 To make sure that Arzaz reaches out to its intended audience in a perfect way, the design team at QousQazah has come up with striking social media banners. On the other hand, stationery design, which is one crucial component of an enthralling corporate identity, often gets neglected.
But, Arzaz didn't want to overlook this valuable aspect. Hence, our team made sure that the kitchen has enthralling stationery to visualize professionalism. This way, Arzaz has got all the right tools in the arsenal to make a solid impression.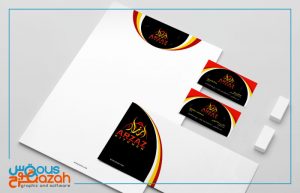 Just like this, you can also connect with your target audience in the most customer-centric way, and we are always here to help you transform your startup into a renowned brand.