Cultural and traditional values instill a sense of affection in the people towards their country, people or society. To show that affection and demonstrate their love for their ethos, they tend to express it through their clothing, dealings, and all in all, through their way of life.
Likewise, the business sectors in Dubai, and other regions in the GCC nation for that matter, validate that fondness towards their cultural values and traditions not only through their business dealings alone but their company's emblem as well, i.e., their logo design, aka brand identity.
This can easily be distinguished in the real estate sector in Dubai which is popular due to its immense architectures, world-class architectural designs and unbelievable landscapes.
Real Estate Logo Designs in Dubai, UAE
Typography-based designs are becoming widely-popular in Dubai's real estate businesses as well and quite rapidly at that. Typography is currently the most popular and widely used logo design trend all over the world. It is mainly because of its eye-pleasing aesthetics and simplicity that adds a subtle nuance in a logo design.
However, it's not just simple typography that is being used in the Dubai's real estate logo design but it is also calligraphy that's been producing spectacular results with its elegant curving, arcs, and curls, which is often infused with the silhouette of Dubai's immense skyscrapers such as in this logo design of Al-Shaali Private Properties Management: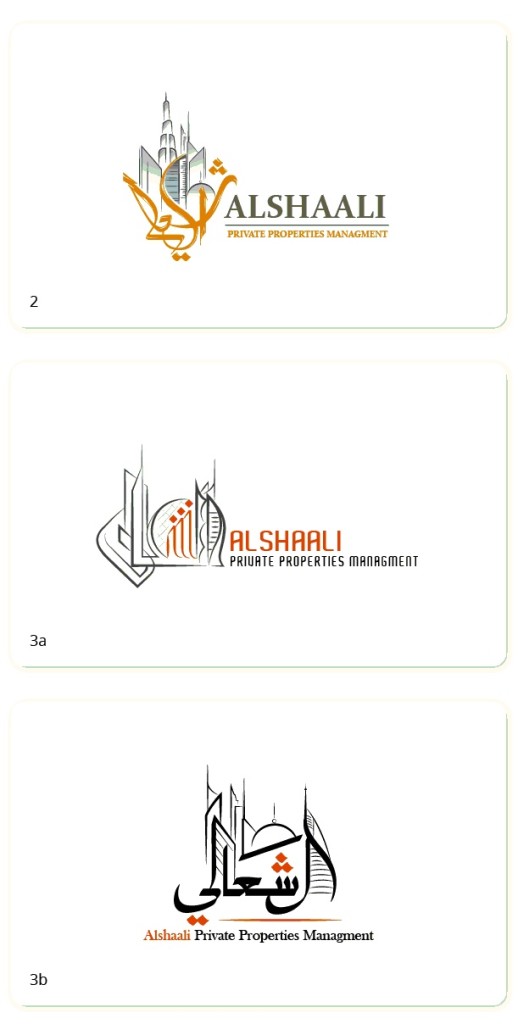 Calligraphy is preferred by big to small businesses in Dubai due to the long cultural ethics and principles it exudes, and not only that but also because it is more captivating than the traditional designs.
Significance of Calligraphy-Based Logos in Real Estate
The reason of real-estates flocking in herds to adopt calligraphy-based custom logo designs in Dubai is because clients (investors, business owners and individual parties) want someone who understands their architectural preferences, needs and values.
A calligraphic logo design allows real-estate businesses to reflect their adherence to Dubai's architecture standards. It also exudes the grasp of the business on the artistic sense that Dubai's world-renowned architectures emanate. Plus, it also reflects the knowledge of the real-estate of the changing trends in the Dubai's real-estate market.
Here are some of the latest custom logo designs of some renowned real-estates in Dubai.