Whether you are the owner of a small-sized company or running one of the gigantic firms, you need to keep your business updated with respect to the preferences and behaviors of your potential customers. Because this age of business evolution demands customer-centricity within your approach. And, if you are not smart enough to react this way, your business will have solid reasons to be outpaced.
This is what Rotana Laundry is aware of, and therefore wants to make sure that its identity reflects a customer-focused appeal with a subtle touch of uniqueness. So, the team at QousQazah delivered exactly what Rotana desired to have.
Let's check out the details!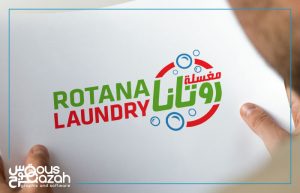 A company's purposeful logo speaks for itself. It doesn't only represent professionalism but also becomes one of the pivotal reasons that help the company lay a strong foundation for its brand.
For Rotana Laundry, the creative team did in-depth research for finding a detailed information about the prospects, competitors, and how the market reacts. And then, came up with a logo design that blissfully defines what Rotana Laundry aims for.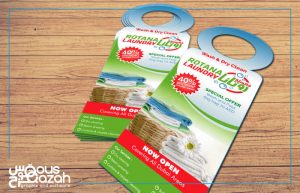 Brochure designing is one creative job that should be done with a lot of concentration. Because this particular aspect works incredibly as a dynamic force for offline marketing. Therefore, a creative makeover can give your company's brochure a perfect look to compel the customers and encourage them to react positively.
Rotana's brochure has got everything we said above. It is creatively designed to symbolize what the laundry service has got for the customers while making sure that each aspect of it captivates them and stands out Rotana from the competitors.
Wrapping It Up:
Do you want to distinguish your brand by redefining its identity? If so, then feel free to connect with us, as we love to transform brands to be a BIG THING for tomorrow.